One of the biggest comments we hear from our customers when they come to NEUTRINET is that their previous legal software didn't offer enough customization. They'll say "it's like they think all immigration law firms operate in the same way" or "it felt like they were our customer and we had to built our process around them".
At NEUTRINET, we're all about giving our customers the ability to customize our software for their needs. We realize that not all law firms operate in the same way and finding efficiency isn't a one-size fits all situation.
Take our workflow management system, it's fully customizable with dynamic stages. Your clients have track their case progress accurately and internal legal teams can collaborate seamlessly. No need to explain everything over the phone or drastically alter how you're managing your cases.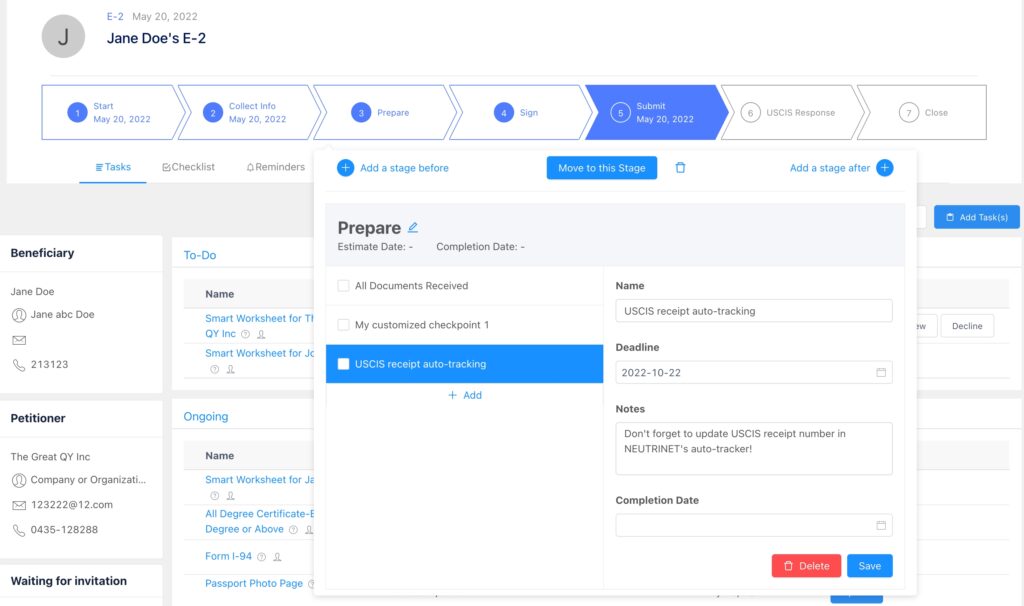 Our case management tools give you the ability to edit names, add stages, and tweak touchpoints to fit your process.
We also know that rebuilding processes is a time-waster. That's why we've made it easy to add those customizations to your case template library. No more copying and pasting – only high-value work.
At NEUTRINET, we listen to our customers and build our product for actual use. If you have feedback or want to learn more about the tools we offer, send us an email at [email protected].